Tips for Parents
How Can I Help My Student Find Off-Campus Housing?
Before You Start:
Preparation is key in this process. Before your student starts sorting through all of the apartments in her area, it's a good idea to make sure she has a clear idea of what she is looking for. Use these questions to help your student think about what she wants.
Do you want an apartment or house?
Do you prefer furnished or unfurnished?
How many bedrooms do you need?
How close to campus should you be?
Do you want to live in a quiet or busy neighborhood?
Are there occupancy restrictions in your area?
How to search:
It's important to start early to avoid the pressure of needing to find a place right away. The right time to start looking will depend on the rental market in your student's area, but generally January or February is a good time to begin. Starting early will help ensure that your student has a great selection of places and plenty of time to make a good decision. Encourage your student to check out these great resources as he searches:
UniversityParent
We have a variety of student housing listings for many schools. Start here & click on your school to find out more.
Here are some of the most popular Student Housing searches:
Other students
Encourage your student to talk to other students who already live off campus. Upperclassmen can be a great source of information about the best and worst off campus housing options.
Bulletin boards or posting sites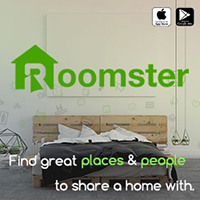 Does your student need a roommate, sublet, or apartment near campus? Choose from 4 million people and places in 192+ countries on Roomster.com.
Your student may also want to check bulletin boards around his university or online forums for places to rent. Potential roommates can often be found in this way as well.
University Housing Services
Many universities have a On and Off Campus Housing Service office. Check the office's website for listings or tips about where to look. They may also put on a housing fair or offer advice on the housing process.
Check our "Best for Parents" List
We're excited to announce the launch of Best for Parents, a tool we've created to help you determine which student housing options meet the standards you — as a parent — are looking for. The Best for Parents certification allows you to make well-informed suggestions regarding your student's housing. You can feel good about a certified Best for Parents apartment, knowing that along with the perks that your student wants, it has the safety and management measures in place that will give you peace of mind. Learn more here.